Range Guard
Wet Chemical System
Fire Suppression System for Commercial Cooking Applications
Guarding Against...

property damage
business interruption
potential injury
high installation costs
high maintenance costs

UL 300 Listed
Each Range Guard® system comes with:
Over 37 Years of Proven Performance Range Guard was the first UL-listed wet chemical fire suppression system
Built-In Cost Savings
Range Guard's pre-engineered design gives you: optimal versatility, safety, and effectiveness inexpensive hardware and system installation fast and cost-effective system maintenance & upgrades
World Class Service
Badger Fire Protection backs all its products with the best customer service and technical support. Range Guard comes with Badger's assurance of the highest quality workmanship and service.
First with the Best!
Range Guard®, Badger Fire Protection's Wet Chemical Fire Suppression System, uses KARBALOY, the superior wet chemical agent first developed over 37 years ago. Range Guard was the FIRST, and remains the BEST!
Range Guard systems guard against

facility damage
potential injury of personnel and patrons
lost profits due to business interruption

Range Guard systems assure

quick fire detection and suppression
24-hour, continual fire protection
superior wet chemical coverage that quickly
suppresses fires and prevents reflash
quick clean up

Range Guard exceeds UL 300 standards
Fast, Reliable Fire Suppression
...could mean everything to the success of your business!
Rely on Range Guard for:
rapid fire detection with state-of-the-art heat detectors
removal of heat source as Range Guard system automatically turns off appliances
immediate fire suppression as wet chemical agent is sprayed on hazard area with special nozzles designed to give optimal coverage; wet agent provides superior saponification, which quickly snuffs flames and prevents reflash
quick, easy clean up once appliances have cooled, the agent can be easily wiped away from equipment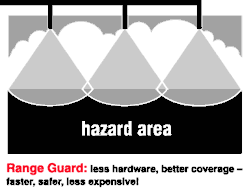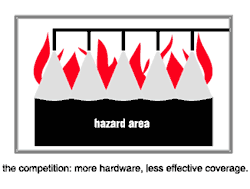 Easy and Affordable to Install & Maintain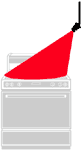 Range Guard systems offer maximum protection with minimum maintenance
Range Guard's pre-engineered systems are more cost effective because flexible, versatile system components save on hardware and installation costs
Range Guard system recharging is fast and economical; great for keeping maintenance costs low
Range Guard's nozzles can be placed outside the appliance perimeter for ease of installation
More Choice
Range Guard gives you optimal control; lots of choices
fire suppression using automatic and/or manual operation modes
Custom fit
Range Guard systems are designed to easily fit in any kitchen layout
System updates use existing hardware
Range Guard strives to utilize existing system components to implement updates and improvements, making innovations and upgrades more cost effective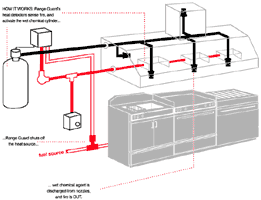 click for large view
Range Guard provides...
total hazard coverage
automatic fuel shutdown
fast flame knockout
cooling and smothering
prevention of reflash
automatic alarm signal
Listed & Approved
Listed by Underwriters Laboratories, Inc., tested to UL 300
Listed by Underwriters Laboratories of Canada, tested to ULC/ORD-1254C.6
Conforms to NFPA standards 17A and 96
New York City MEA approval
DOT rated steel cylinders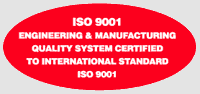 Certified Quality
Badger's Range Guard Wet Chemical Fire Suppression System is made in America in accordance with ISO 9001 certified quality standards.
Features of the System
Designed to address the total fire hazard
Flexible piping configurations
Choice of black, chrome plated and stainless steel piping or stainless steel and brass tubing
Operating and storage temperature 0°F (-18°C) to 120°F (49°C)
Factory filled stored pressure cylinders with chrome plated valves
Valves incorporate pressure gauges for at a glance readiness status
Cylinders can be piped together to minimize installation cost
Six temperature heat detectors available for precise hazard specification
Easily identifiable smaller nozzles with integral strainers and foil bursting discs to protect against blockage during discharge
Swivel adaptors available for nozzles
Optional stainless steel enclosure