Emergency Response Products
---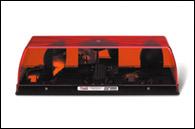 Mini Lightbars by Whelen provide great safety from a compact package. Featuring a 110 RPM halogen/reflector assembly and choice of permanent or magnetic mounting. The magnetic kit includes four 50lb. magnets, power cord and cigarette lighter plug. Non-corroding molded nylon base. Two rotating lamp modules with diamond shaped mirror. Available in three lens colors. Measures 17"L x 4 3/4"H x 6 5/16"W.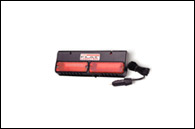 FlatlighterTMSeries Strobe Light by Whelen is compact and has dual lightheads. Can be mounted on visor, windshield, deck or dash. Comes with 8' straight cord and cigarette lighter adapter, 2 built in adjustable mounting straps with hook and loop fasteners and a built in on/off switch with strobe power supply (20 watt output). Specifications: 60 double flashes per minute (FPM) per lamp, 240 FPM total, measures 3 7/8"H x 10 11/16"W x 1 1/2"D. Weighs only 1 1/4lbs!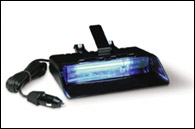 DASH KING 2000TM by Whelen features the wide angular strobe tube & reflector technology. Select one of four flash patterns:Comet Flash®,Action Flash?, Double Flash or Rapid Random Flash?. These self contained models include easily accessible power and pattern increment switches, power cord and cigarette lighter plug. Four mounting configurations: Headliner, over mirror, under mirror or dash/deck mount. Measures 2 1/4"H x 81/8"W x 61/8"D.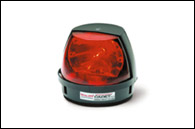 Responder Cadet Beacon by Whelen is perfect for the dash. This is a compact rotating halogen light, has two speeds and provides 42,000 beam candlepower using a 20 watt bulb. Can be mounted using the 50lb. magnet included or permanently. AMECA certified to SAE and California Title XIII requirements. Includes light shield, hook and loop pad, 8' straight power cord and cigarette lighter plug. Features black plastic half-hood light shield and frosted dome top. Measures 3 1/2"H x 4 1/4"Dia.