Emergency Response Products
---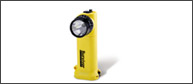 The Survivor is fitted with a Xenon bulb that cuts through smoke, fog and mist (pre-focused candlepower up to 15,000). Features include nylon case, polycarbonate lens, 2 position rotary switch and 10 hour AC/DC steady chargers. Unit will operate 1 1/2 hours per charge. FM Approved.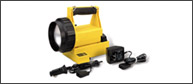 Litebox and Vulcan flashlights feature bi-pin bulbs providing powerful outputs, long run times, and unbreakable cases complete with NFPA compliant charging/mounting racks and shoulder straps. Dual filament bulb provides instant emergency backup bulb when required. Also features a new sealed beam system that allows easy replacement of halogen or Xenon bulbs, minimizing replacement cost while maximizing performance. Constructed of high-impact ABS thermoplastic with rubberized impact bumper, lens ring and cushion gripped handle. Vulcan model is waterproof. FM Approved.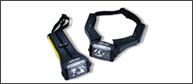 WOWTMAND Topspot®2 are unique lights that have tough polymer cases that convert instantly from flashlights to headlamps. WOWlights feature a textured reflector that eliminates "hot spots" and 180° head tilt. Lights come with a 1.3 watt, Krypton bulb and uses two AA alkaline batteries (not included), with up to 3 1/2 hours of run time. Topspot®2 lights feature lightweight, thermoplastic construction, 45° head tilt and spot-to-flood focus. Lights come with one 2.2 watt Krypton bulb plus one back-up bulb and uses four AA alkaline batteries (not included), with up to 4 1/2 hours of run time with the Krypton bulb and 7 1/2 hours with the back-up bulb.