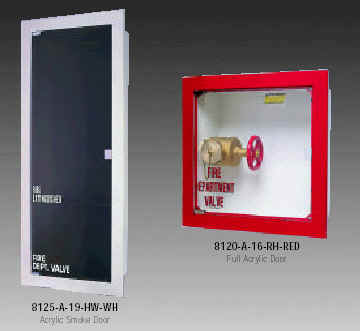 Fire valve cabinets with a contemporary look -- Like their fire extinguisher cabinet counterpart, Buena Series fire valve cabinets feature the ultra-clean, contemporary look of a full acrylic door, available in five eye-pleasing panel colors. Numerous lettering options, make it easy to specify a truly modern, durable and functional fire valve cabinet.
Specification
Valve/ Fire extinguisher cabinet shall be Model No. _________________ as manufactured by Potter Roemer, Santa Ana, CA, 800-36-FIRE. Install the cabinet plumb and level, where indicated on the drawings, at heights acceptable to the authority having jurisdiction. Each cabinet shall have a Potter Roemer Model No. _____________ fire extinguisher installed inside.
Specification Example:
8120 -- A -- 16 -- RH -- RED
8120 - Cabinet Dimensions, Mounting and Material
A - Door Style - Full Acrylic Panel
16 - Acrylic Door Color - Clear
RH - Optional Red Lettering - Red
RED - Optional Finish - Red
To Specify
1. Select the cabinet dimensions, mounting style, door and frame material from the Buena Series chart below. The cabinet dimensions and mounting type are determined by the fire extinguisher size and wall depth available.
2. Select the desired door style:
-A Full Acrylic Door
-E Center Break Glass
3. Optional: Select the glazing material:
-16 Clear
-17 Bronze
-18 White
-19 Smoke
-20 Red
4. Optional: Select lettering "fire extinguisher":
Horizontal Vertical Vertical Ascending
-HW White -VW White -VAW White
-HB Black -VB Black -VAB Black
-HR Red -VR Red -VAR Red
5. Optional: Select lettering "fire dept. valve":
-WH White -BH Black -RH Red
6. Optional Construction and Finishes:
FRC- Fire-Rated Cabinets, add this prefix
-RR Rolled-Radius Frames, add this prefix
-RED Red Polyester Finish, add this suffix.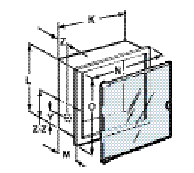 MODEL NUMBER
WALL MOUNTING
BOX I.D.
FRAME O.D
WALL OPENING
INLET LOC. SHELF
SHELF Z-Z
FRC OPTION
ADA
FOR USE WITH
STEEL
ALUMINIUM
STAINLESS STEEL
K
L
M
N
O
W
H
D
Y
Z
W
H
D
8120
8140
8160
Recessed - 5/8
18
18
8
213/4
213/4
19
19
81/2
9
4
---
201/4
20
81/2
Yes
21/2" Angle Valve
8121
8141
8161
Trimless
18
18
83/4
21
21
19
19
91/4
9
4
---
201/4
20
97/8
Yes
8122
8142
8162
Semi-Recessed - 2
18
18
8
211/2
211/2
19
19
61/2
9
4
---
201/4
20
71/8
Yes
8124
8144
8164
Surface
20
20
91/4
---
---
---
---
---
---
---
---
---
---
---
No
Up to 20 lb. Dry Chem. Fire Ext.and 21/2" Angle Valve
8125
8145
8165
Recessed - 5/8
14
40
8
173/4
433/4
15
41
81/2
4
4
12
161/4
42
81/2
Yes
8126
8146
8166
Trimless
14
40
83/4
17
43
15
41
91/2
4
4
12
161/4
42
97/8
Yes
8127
8147
8167
Semi-Recessed -3
14
40
8
171/2
431/2
15
41
61/2
4
4
12
161/4
42
71/8
Yes
8129
8149
8169
Surface
16
42
91/4
---
---
---
---
---
---
---
---
---
---
---
No