Escape Ladders & Fire Blankets
---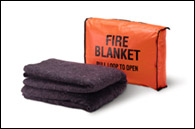 FEATURES
Dark gray fire blanket has a 70% wool and 30% synthetic fiber.

SIZE
Length:

80"

Width:

62"

MATERIALS
Blanket:
Synthetic portion of blanket consists of any or all of the following: Polypropylene, Nylon, Acrylic.
This synthetic portion is treated with DuPont X-12 for fire retardancy (more information on X-12 is available from Engineering). The blanket contains no asbestos.
APPLICATIONS
Location:

For use in areas where personnel are subject to flammable liquid fires.