CheetahXi
---

When smoke and fire threaten your critical assets, accurate, detailed information and quick reaction time are crucial. Cheetah Xi™ Intelligent Fire Suppression Systems are digital, peer-to-peer, bi-directional communication systems designed to respond in a split second!

Each Cheetah Xi™ intelligent fire suppression system comes standard with the latest peer-to-peer technology. That means every detection and control device can act as a peer, with the added fire protection ability to communicate directly with the detection control panel...and with each other! Every fire detection device can also generate highly detailed, accurate information, making the Cheetah Xi™ detection and control system one of the fastest AND most versatile fire suppression systems available.

Fire Suppression Solutions that Fit YOUR Needs
The Cheetah Xi™ complete family of fire suppression systems, gives you the freedom to design the ideal system for your facility.

Cheetah Xi™ 1016 Intelligent Fire Suppression System

Each Cheetah Xi™ 1016 fire detection system comes standard with two Signaling Line Circuits (expandable to four loops) that support 254 devices each. And you can network up to 128 Cheetah Xi™ fire suppression systems for up to any combination of 130,048 sensors and modules! The Cheetah Xi™ 1016, is the right choice for your next installation of Fire Alarm, Clean Agent Fire Suppression, Carbon Dioxide Fire Suppression, Linear Heat Detection, Watermist systems, Sprinklers and Sprinkler/Pre-action fire detection and control.

Cheetah Xi 50 Intelligent Fire Suppression System

The Cheetah Xi™ 50 brings all the same power and technology to smaller business and stand-alone applications. With the ability to combine any 50 intelligent sensors and modules, the powerful Cheetah Xi™ 50 is ideal for data centers, MRI machines, switch rooms, electrical closets, generator rooms, and many, many more! The Cheetah Xi™ 50 intelligent fire suppression system is flexible, fast and efficient, in an economical package.

All Cheetah Xi Intelligent Fire Suppression Systems include:

6.0 amp power supply, expandable to 12 (5.25 amp on the Cheetah Xi 50)
80-character LCD Display
Optional internal point ID DACT
SLC loop has a maximum length of 12,000 ft.
Supports 254 devices per SLC--any combination of sensors or modules. (Xi 50 supports up to any combination of 50)
Positive alarm sequence
Acclimate Operation for Sensors
Auto Learn Function
And many, many more features...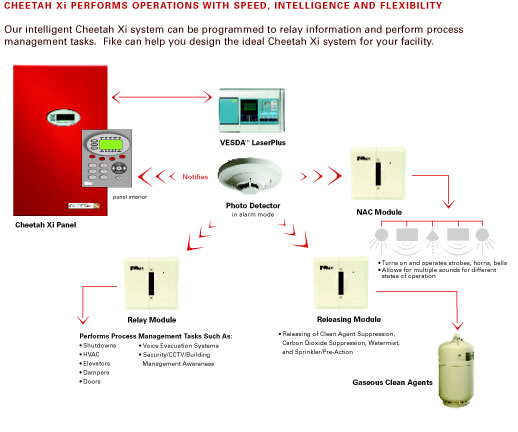 Cheetah Xi Fire Protection Control Panel:

Modules for the Cheetah Fire Protection System:

Notification Appliances Audio Visual Products for the Cheetah Xi Fire Protection System: