MICROMIST
---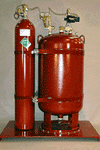 Why is a FIKE Micromist system better?
The Fike MicroMist fire suppression system produces a fine mist to extinguish fires quickly and with very little residual water -- making it safe fire protection for everything from occupied spaces to valuable assets. That is efficient, controlled protection not found with many traditional fire protection options such as fire sprinklers.
The Fike MicroMist fire protection system uses single fluid, intermediate pressure, reducing high installation and maintenance costs associated with redundant piping networks and high pressure piping and fittings. The convenient MicroMist is a self-contained, single-fluid, pre-engineered water mist fire suppression system offered in 70 and 112 gallon (265 and 423 liter) cylinder configurations. Each MircoMist fire suppression system is pre-assembled, tested and packaged with all necessary valves and actuation components for system operation, (though system nozzles must be ordered separately). That's portability, reliability and simple installation in one easy package!
This cost-effective water mist system employs a brass nozzle, which has demonstrated excellent performance extinguishing flammable liquid (Class B) fire scenarios. The Fike MicroMist fire protection system is ideally suited for total compartment protection of machinery spaces, compartmentalized gas turbine generators (FM approved) and many other applications.
Don't settle for ordinary, damaging fire protection, water mist systems or fire sprinklers ... use the simple, cost-effective MicroMist Fire Suppression System by Fike:
Environmentally friendly, non-toxic, and people safe
Minimal amounts of water released (100 times less water than traditional sprinkler systems) means reduced down-time due to fire-related damage
Advanced detection and control system delivers rapid detection and suppression
Operates with Fike Cheetah Fire Suppression Panel
Intermediate pressure piping network eliminates expensive high-pressure piping, fittings, and associated installation costs
Self-contained, single fluid system eliminates expensive additional piping network
Takes less floor space than comparable Carbon Dioxide system
NO expensive and time-consuming discharge testing required
Fike MicroMist systems are suitable for hazards up to 9,175 cubic feet (260 cubic meters) including:
Oil and gas process plants and production modules
Gas and steam turbines
Fuel handling units
Machine rooms
Flare snuffing
Engine test cells
Special hazard machine rooms
Incidental storage of flammable liquids
Diesel engine emergency generators
For more information on Fike's Micromist Fire Protection Systems, and the complete line of system components and accessories available, see below (PDF Format):
For information on Application Profiles utilizing the water mist system by Fike, MicroMist (PDF format):
For useful information on the design and options available with a Fike MicroMist Fire Suppression System (PDF format):