SHP-PRO
---

The SHP-PRO Fire Detection and Fire Protection System
Fike SHP-PRO is THE reliable, conventional fire suppression system. This microprocessor-based fire detection system can be easily configured for use within a wide range of industries and fire suppression applications ...
Clean Agent fire suppression for high value asset protection
Fire Sprinkler and Sprinkler Pre-action deluge for protection of building structure
Control of BOTH fire sprinkler pre-action / deluge and clean agent fire suppression systems ... for COMPLETE FIRE PROTECTION using ONE Fire Suppression Panel!
Industrial applications including Carbon Dioxide fire suppression systems, Foam suppression systems, and premier water mist system, Micromist.
In addition to several new application possibilities, the SHP-PRO fire detection system features several key improvements to the original SHP, including the addition of release disabled & ground fault LED's, one additional input circuit, an optional Class A output module and MORE POWER! The SHP-PRO fire suppression system is also built for easy installation, making it versatile and easy to manage. This reliable fire detection workhorse is compliant with the UL 864 Standard, rounding out a list of features which make the SHP-PRO the leader in conventional fire detection and fire protection ...

Look for all the following features and more in your new SHP-PRO fire detection / fire suppression system: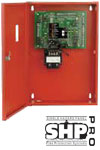 Configurable via dip-switches
Disable Mode for audible circuits, release circuits, and relays
Alarm and trouble resound
Selectable 120 or 240VAC power input
Optional batteries for up to 90 hours of standby power
Removable door for easy installation
Up to two Style B initiating device circuits capable of sequential alarm, cross-zone, or single detector release operation with an overall system capacity of 50 detectors.(25 when both releasing circuits are used)
Three Style B initiating device circuits capable of monitoring closed contact devices
Optional Class A module that converts all five initiating device circuits to Style D wiring operation.
Three Style Y notification appliance circuits rated at 2.0 amps each
One Agent Release circuit with maximum of 6 ARM III's and/or depending upon model of SHP PRO ordered one solenoid release circuit which can activate one 24V or two 12V solenoids.
For more information on the new SHP-PRO fire detection and fire protection system (all in pdf format) ...
For more information on peripheral fire alarm, fire detection sensors, smoke detectors and other fire detection and fire suppression peripheral items for the SHP-PRO ...
Initiating Devices for the SHP-PRO Fire Protection System: