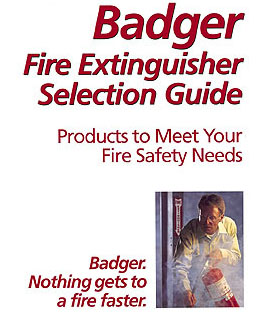 FireDot.com is an authorized distributor of all Badger products.
Badger offers a complete line of fire extinguishers for every type of fire. These products represent the best in fire fighting equipment and are the result of a long company tradition of service, experience and quality. This selection guide has been developed to make it easy for you to choose the correct type and size of fire extinguisher. There can be no shortcuts when it comes to extinguishing fires and nothing gets to a fire faster than a Badger.

Our research and development teams are dedicated to providing you with the best in fire fighting equipment to meet your specific needs. As a result, this fire extinguisher selection guide is designed to give you all the information you may need to make an informed decision. For more detailed information or reference material on any specific product, please call FireDot.com at (800) 452-1540.
Choose a product:
A warranty you can count on




Badger Fire Extinguishers are the best you can buy. They are well made, long lasting and easily maintained. If your fire extinguisher has not been previously discharged and has not been misused, damaged after purchase, or improperly maintained, Badger Fire Protection Systems will replace your extinguisher if it is found to be defective within six years after date of manufacture shown on the extinguisher label.
Approvals and Listings



All Badger fire extinguishers comply with local codes and are approved or listed by: NFPA - National Fire Protection Association UL - Underwriters Laboratories, Inc. DOT - Department of Transportation OSHA - Occupational Safety and Health Admin. USCG - United States Coast Guard ULC - Underwriters Laboratories of Canada, Inc.
Choosing the right fire extinguisher



It is natural to use the extinguisher located nearest to a fire, making it essential that the correct type and size be placed close to a potential hazard. Make sure you select the right fire extinguisher to do the job.
Types of fires



Common combustibles such as wood, paper, cloth, rubber, trash and most plastics. May occur in homes, office buildings, or business.


Flammable liquids such as gasoline, kerosene, oil, grease, solvents and gases. Commonly strikes in kitchens, garages, light manufacturing plants and warehouses.


Live electrical equipment. Often occurs in computers, motors, wiring, and appliances; requires a non-conductive extinguishing agent.