ECARO-25
---
ECARO-25™, utilizing HFC-125 as the fire-extinguishing agent, is the best, most cost-effective clean agent fire protection system available. ECARO-25 is perfect for NEW clean agent fire suppression applications. This highly effective fire suppression system is safe for people, assets and the environment.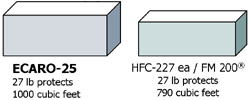 Minimal Clean Agent + Maximum Flow = Most Cost-effective Clean Agent
Fike's ECARO-25™ System requires 20% less agent per cubic foot/meter than HFC-227ea, which is the same molecule as FM-200, a registered trademark of Chemtura Corporation. The superior physical properties of our unique Clean Agent, FE-25™, allow you to utilize small diameter piping over long distance, making design easier.
ECARO-25™ Fire Suppression System = Cost Savings on agent, piping & installation!
ECARO-25™... THE FUTURE in Clean Agent Fire Suppression. With an ECARO-25™ system, you are getting the premier design in clean agent. All clean agents must remain in the protected space for a specified period of time in order to extinguish a fire. ECARO-25™ is 20% more efficient in hold time than an HFC-227ea or FM-200™ System, and you need 20% less agent to protect the same room. Superior design and cost savings!
Protect Your People, Your Assets, Your Business Continuity ... and Your Bottom Line with an ECARO-25™ Clean Agent Fire Suppression System
Zero Ozone Depleting Potential (ODP)
Environmentally Safe
Electrically Non-Conductive
Colorless and Odorless
Leaves No Residue
For Use in Occupied and Unoccupied Spaces
No Overpressurized Concerns
For more information about ECARO-25™ fire protection systems (PDF format):
ECARO-25™ Brochure
Drop-in Halon Replacement Brochure (English)
Dupont FE-25 Brochure
ECARO-25™ Article: The Future of Clean Agent Fire Suppression
Frequently Asked Questions about ECARO-25™
Safe for Occupied Spaces
For more information on accessories for the ECARO-25™ fire protection system (PDF format):
For copies of ECARO-25™ Material Safety Data Sheets (PDF format):
For Architect's and Engineer's Specifications concerning ECARO-25™ fire protection systems (PDF format):
For information on Application Profiles utilizing ECARO-25™ fire suppression systems (PDF format):